(Photo by Laureen Summers)
Life can be so beautiful...
Drive alertly and kindly and enjoy life longer.
GRIDLOCKSMITH.COM
Questions? Suggestions? Contact: info@gridlocksmith.com
=======

This is the "Proposals" page... here comes one, now...

Let there be Peace on the road.
End road rage... and begin...

BIG NEWS!
Sister-site,road-peace.com
will be the gathering area

for the "Road-Peace" ad campaign.
"Road-Peace is a step toward world peace."

is the theme for ad designs to be submitted at

(viewable, but not fully operational -

any volunteer webmasters, here? I am strictly amateur.)

The plan is to display a limited number of designs

that Road-Peace supporters can choose from,

and donate funds for publication.

Designers are rewarded with links

to their sites, and credits on the published ads.

Want to help? contact info@road-peace.com
(Proposal: we all spread the word.)
*******

The GRIDLOCKSMITH store is now open.

MORE PROPOSALS...
EVERYONE CAN BE
GRASS-ROOTS

TRAFFIC SAFETY ACTIVISTS
What is a gridlocksmith
(AKA: Road-Peace-Maker) ?
A traffic safety and peace activist
who understands that setting a safe example is the surest way to make a positive
difference for traffic safety.
More gridlocksmiths in traffic
means less gridlock, and
journeys

that will be more safe and pleasant.

We may find that the peace making skills
that we learn close to home,
resolving issues of traffic,
may be useful for
the creation of World Peace.


Are we dreaming of life
on the other side of the mountain,
without climbing over the mountain,
if we think we can have world peace,
without making


"road-peace?"
A route should have been built 30 years ago.
*******

ATTITUDE ADJUSTMENT

(A kind, patient attitude

is the accessory,

which, for our safety's sake,

is most necessary!)

(
ROADWAY ANGER GENTLE-FICATION EFFORT
)
Have you noticed that the word "anger"
is only one letter short of "danger?"
If you are angry while Driving, there's plenty of Danger.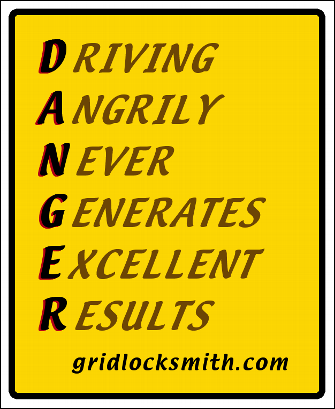 HAIKU FOR TRAFFIC SAFETY
it is life and death.


in matters so serious
one must always laugh.

It is not always easy to laugh when others are doing stupid/dangerous things, but we do have the power to decide to forgive and write it off as a mistake, rather than take umbrage and believe the other guy is evil.

We benefit greatly by making the choice to relax and laugh.

It is better for the heart, the soul, and for everyone on the road.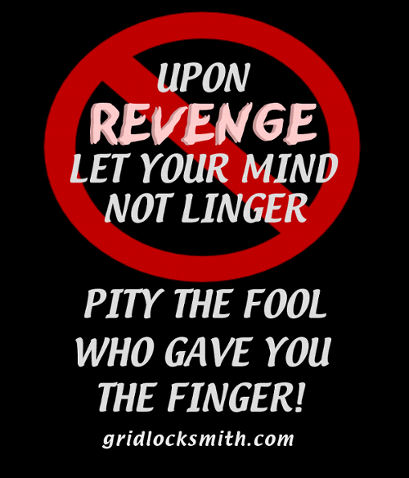 If we allow ourselves to get angry, we are more likely to make errors

that could endanger ourselves and others.

In short, we will be setting a bad example.
Then we become part of the problem.

Why not join the Roadway Anger Gentle-fication Effort, and be part of the solution?
"Are you part of the problem,
or part of the solution?
Set a safe example in traffic.
"
*******

"OPERATION S.E.T."


(SAFE EXAMPLE in TRAFFIC)
IF YOU CHOOSE TO ACCEPT THIS MISSION...
You will be an independent agent, stubbornly holding to the practices
you know to be safe and thoughtful of others,
secure in the knowledge that you, at least, are not "part of the problem."
Whether we cycle, drive or walk,
Pay attention - do not gawk!
If you drive with distractions
You may suffer impactions,
And my, how your friends will talk!
COMING SOON:
EXTEND YELLOW AT RED LIGHT CAMERAS (MELLOW YELLOW)

ELIMINATE "MERGE RIGHT" (INTO BLIND SIDE)
MAKE HIGHWAY FATALITIES COUNT! (FOR SOMETHING)
(These are working through the draft process on
the blog
)